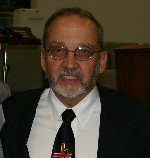 From: Gallatin, TN
Family: 3 children & 7 grandchildren
Sending Church:
Bible Baptist Church
Hendersonville, TN 37075
AGM Start Year: 1987
Mission Verse: "Ye have not chosen me, but I have chosen you, and ordained you, that ye should go and bring forth fruit, and that your fruit should remain: that whatsoever ye shall ask of the Father in my name, he may give it you."
Personal Testimony(Joe):
I was saved in April of 1970. I was a catholic for 26 years. It was the greatest decision I have ever made or will make. Jesus Christ means more to me that anything this world affords.
What it means to be a part of AGM:
Amazing Grace Mission means everything to me. It is a thrill to go to fairs and tell people how they can be 100% sure they'll go to Heaven when they die, and to see the joy on the faces of those who receive Christ as their Saviour.
Contact Information:
Address:
Amazing Grace Mission
Headquarters
P.O. Box 289
Dayton, TN 37321